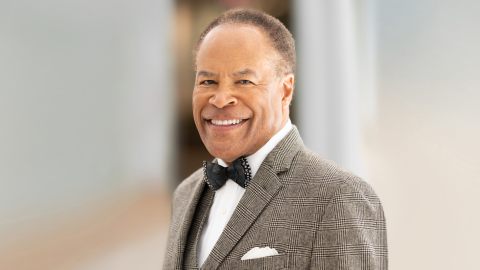 At A Glance:
Jessie J. Knight, Jr. is managing director of Knight Angels and a trustee at Hudson Institute.
Biography
Jessie J. Knight, Jr. serves on the Hudson Institute Board of Trustees.
Mr. Knight is managing director of Knight Angels, a private equity fund devoted to anonymous philanthropy and financial support of grassroots leaders that improve their local communities with innovative solutions, and who themselves are either a military veteran, woman, or an ethnic minority.
Mr. Knight retired on November 1, 2015, as Sempra Energy's executive vice president of external affairs, chief sustainability officer, and chairman of two of its subsidiaries, San Diego Gas & Electric (SDG&E with $6 billion in revenues), and Southern California Gas Company (SoCal Gas with $9 billion in revenues).
Mr. Knight was chief executive officer of SDG&E from 2010 to 2014. In addition to providing record earnings during his time as CEO, he led significant utility achievements: the construction of the 117-mile Sunrise Powerlink electric transmission line for renewable energy for San Diego, system-wide technological deployments in smart meters, electric vehicles, smart grid technologies, and conversion of the aggregate energy portfolio to 23% renewable power with significant wind and solar projects. In addition to his chairman's duties overseeing the utilities, as executive vice president of external affairs, he oversaw media communications and public affairs, government relations, regulatory affairs, regulatory and environmental compliance, and international affairs for Mexico, Peru, Chile, and Argentina subsidiaries.
From 1999 to 2006, he was president and CEO of the 2,800-member San Diego Regional Chamber of Commerce, representing over 400,000 employees, the largest business organization in California and the third largest Chamber of Commerce in the Western United States.
Mr. Knight began his corporate career in 1975 with Castle & Cooke Foods, where he worked 10 years in both domestic and international operations.  Beginning as a division financial analyst for the banana operations in Honduras, Central America, he was later promoted to senior marketing analyst for Dole's Coca Cola franchise and its Salva Vida beer brand under Dole's subsidiary, Cerveceria Hondureña, in Honduras.
After returning to the United States in 1978, Mr. Knight was promoted through the ranks of marketing management for the organization's world-wide pineapple and seafood businesses, ending his ten-year career with 3-1/2 years as corporate marketing director-North America, for of all Dole's US and Canadian canned and juice retail grocery products divisions.
From 1985 through 1992, Mr. Knight was vice president of marketing for the San Francisco Chronicle and San Francisco Examiner newspapers, overseeing business-to-business marketing, consumer product marketing, strategic planning, and consumer research. While there, he was awarded five national Clio Awards for television, radio, and print advertising, and a Cannes Film Festival Golden Lion Award for business marketing.
From 1993 to 1999, Mr. Knight served as commissioner for the California Public Utilities Commission (CPUC), appointed by Governor Pete Wilson, and unanimously ratified by the full California Senate. With 800 employees, this constitutional agency had regulatory oversight for the then $52 billion telecommunications, railroad safety, transportation, water, electricity, and natural gas industries of the state. He was recognized nationally as a leading regulatory voice to deregulate the telecommunications and energy industries to create competitive markets. In a dissenting written opinion in the legal record, he foretold the ultimate demise of the original electric deregulation framework that California embarked upon that contributed to the state's energy crisis in 2001. Since then, in various personal and professional capacities, he has been an ardent spokesperson and advocate to elevate California and the nation's energy policies to embrace free enterprise principles, as opposed to government fiat and mandates.
Prior to his gubernatorial appointment as a CPUC Commissioner, Mr. Knight was employed as executive vice president of the San Francisco Chamber of Commerce, responsible for international programs, economic development and business development for the 2,100 businesses represented by the organization. 
Mr. Knight is a life member of the Council on Foreign Relations (1988) and is the chairman of the Timken Museum of Art in San Diego, CA. He currently serves on the board of the US Chamber of Commerce in Washington, DC and serves on the Executive Committee and the Nominating Committee. Over the last ten years, he has served on the US Chamber's National Security Task Force Committee, the Energy Policy Council, and the US/Mexico CEO Council. He was one of the founding members of the Pacific Council on International Policy (Los Angeles at UCLA). He is an active member of His Majesty King Charles III's Order of St. John.
Mr. Knight is a graduate of Saint Louis University (1972), a fellow of the University of Madrid, and holds an MBA from the University of Wisconsin-Madison (1975), an honorary Doctorate of Humane Letters by the San Diego State University Fowler School of Business (2021), and an honorary Doctorate of Commerce by the Saint Louis University-Madrid (2022).